SHANGHAI (June 13, 2022) SAIC Mobility today released results from its 100-day robotaxi trial in Shanghai and Suzhou, which shows high acceptance and the potential for fully automated vehicles to become a normal part of daily commutes. Together, SAIC Mobility and its partner Momenta, a leading AI company for autonomous driving, tested the potential of autonomous driving capability use in the daily lives of people living in Shanghai and Suzhou.

As one of the first L4 autonomous driving platforms for Chinese auto companies, SAIC Mobility Robotaxi launched in Shanghai on December 8, 2021, and in Suzhou on the 28th of December. It is testing a fleet of 60 vehicles, with a daily order volume of about 20 rides per vehicle. Per local regulations, a safety driver participated in all rides.
Riders who summoned robotaxis with a smart phone application ranged from 18 to 68 years-old and rated their satisfaction with the technology as high as 98%. According to the data, 80% of riders used the service two or more times after their initial trial. "Silky smooth ride," was frequently used to describe the experience among customers. Business commuting, transport to subway stations, and leisure and entertainment were the most popular uses of this robotaxi trial.
"This is a significant milestone on Momenta's journey to scale deployment of robotaxis and demonstrates the potential for how this technology can significantly improve urban mobility," said Cao Xudong, Momenta Chief Executive Officer. "It is very gratifying that customer satisfaction was very high and that a diverse group of riders used the service for business and pleasure commuting. Real-world customer feedback is vital to continue to improve level 4 autonomous capabilities on our mission to make smart mobility safer, more convenient and more efficient."
"The robotaxi ride was smooth and reliable," commented a 68 year-old grandfather who used the robotaxis multiple times to run errands.
The SAIC Mobility Robotaxi service integrates the experience of SAIC Passenger Cars, SAIC Artificial Intelligence Laboratory, Momenta, and SAIC Mobility, combining mature travel operation experience with leading autonomous driving technology. This model, which combines manufacturing, AI and operational expertise will build a data-driven ecosystem which continuously evolves, to explore and improve L4 autonomous driving capability in urban travel environments.
Highlights from the report:
1.The overall user satisfaction rate is as high as 98%. Eighty percent of riders used the service on multiple occasions, mostly for business commuting, and the vehicles remained engaged despite inclement weather or complex road traffic in construction zones. Among riders, there are many users who have taken more than 10 or 20 rides. One rider used the service 52 times, an average of once every two days. This high usage rate demonstrates the vast potential of the service.
2.Among all robotaxi riders, 66% are 25 to 34 years-old. The oldest rider is 68 years-old.
3.The robotaxi's intelligent voice assistant "Xiao Ke" was summoned 10,300 times, the most was 113 times in one day. It can search and play songs, adjust the air conditioning, and open or close car windows. The song reservation function was used 5,234 times, with riders selecting to have music already playing when they get in the car. In the singer search rankings, Jay Chou is the unanimous first choice of users in Shanghai and Suzhou, while the second place shows different choices.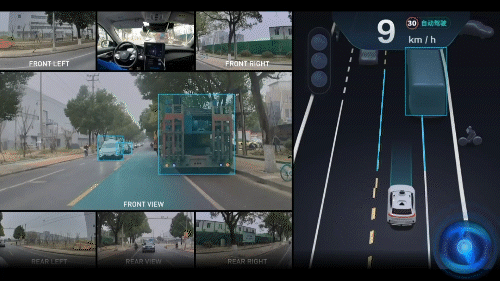 The robotaxi perceives a large car entering the road, so it slows down. After assessing the traffic and predicting the route of an oncoming vehicle, the robotaxi overtakes the vehicle and select a preferred route.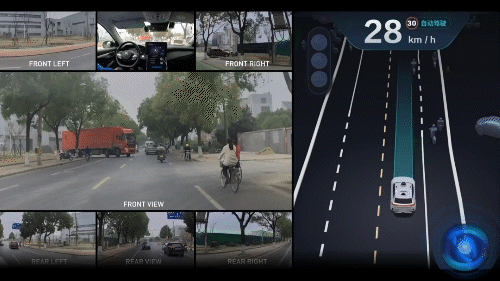 Two motorbikes emerge from a blind spot. The system perceives them, predicts where they will cross and the robotaxi slows down to avoid them.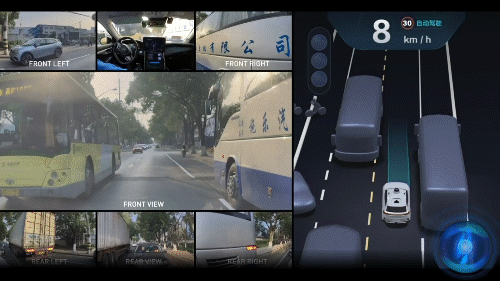 A commercial vehicle enters the robotaxi's lane. The system predicts the direction it will turn, as well as the speed and direction of the two cyclists. It quickly calculates that the passage is too narrow, so the vehicle slows down.
In the tens of thousands of experiences of thousands of riders, this robotaxi trial proves its potential for future travel. In the next phase, SAIC Mobility Robotaxi will continue to improve safety and security, upgrade the user experience, expand the scale of the fleet and the scope of the experience, bringing users smarter, more efficient, and more comfortable and sustainable future mobility solutions.
Momenta is a leading autonomous driving company committed to creating a better future for smart mobility through breakthrough AI technology. It has pioneered a uniquely scalable path towards full autonomous driving with a data-driven approach, called its "flywheel," which quickly iterates and improves its algorithms. Its "two-leg" product strategy combines mass-production highly autonomous driving solutions (Mpilot) and fully autonomous driving (MSD or "Momenta Self Driving") technologies. This strategy provides different levels of autonomous driving capability, while realizing large-scale implementation of highly automated driving solutions. Ultimately this will enable safer, more convenient, and efficient travel in the future.
Established in 2016, Momenta is expanding its business in China, Germany and Japan, and has received strategic investments from SAIC Motor, General Motors, Mercedes-Benz AG, Toyota and Bosch, among others. It was named one of the "50 Smartest Companies" by MIT Technology Review. More information can be found at https://www.momenta.ai/.